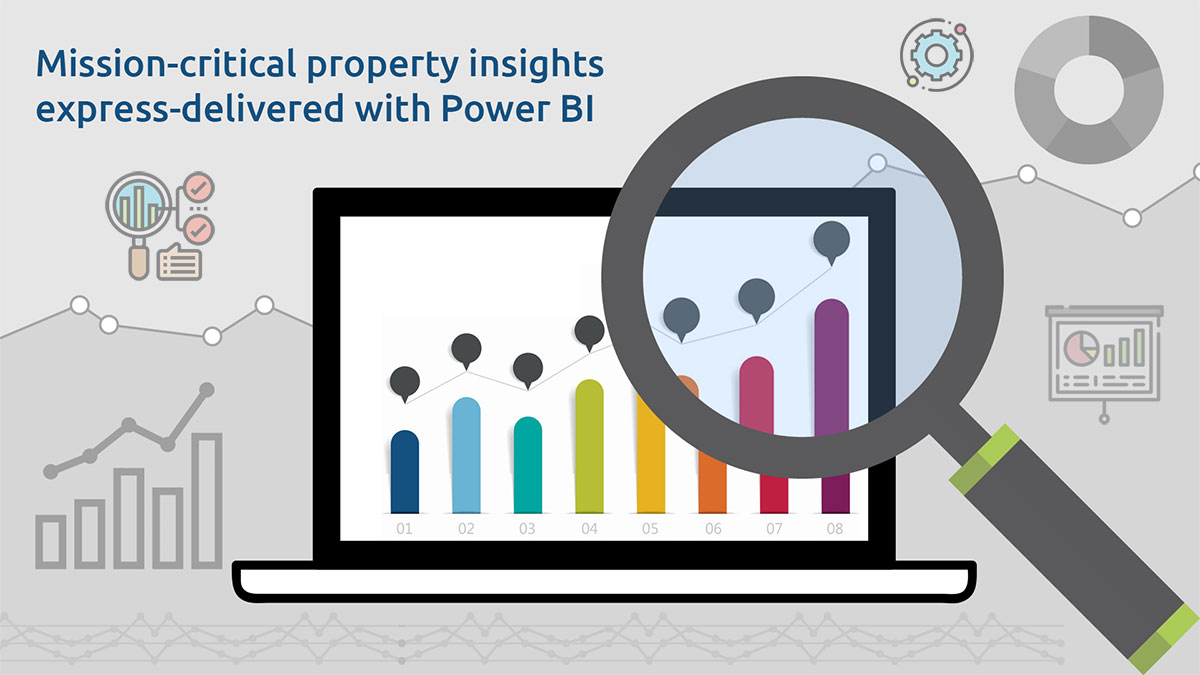 Mission-critical property insights express-delivered with Power BI

To optimize the rental and leasing of spaces, property managers need up-to-date information in real time. This requires extensive analysis of large volumes of data from internal databases, as well as external sources like social media.
Social media – to cite an example – can be a powerful tool for property managers. The vast majority of US-based renters are on social media, and they use it as a go-to place for property research, recommendations, and evaluation of rates and terms. Using analytical tools, property managers can combine their company's online and social media presence to advertise vacancies and nurture leads; track digital footfall and trending preferences; evaluate customer feedback and competitor performance – with great results.
Unfortunately, manual dependencies can stunt this process. Extracting data from multiple sources, and leveraging multi-layered perspectives from them can be tedious. Additionally, the manual effort to compile reports could take up to weeks at a stretch. The whole process is laden with difficulties:
Dependencies on IT or accounting departments to collate information
Tight reporting timelines that are extremely stressful for employees
Missed market opportunities due to lengthy turnaround period of reports
Error-prone manual collation processes
Data quality issues and lack of a single source of truth
Missing ad hoc search capabilities
Inability to view the big picture
Routine requirements like drill-down, filters and graphic depictions could be time-consuming and tedious.
Power BI for US property management analytics
Microsoft Power BI is the answer to the hours and weeks spent in compiling information from disparate sources and preparing it for mission-critical insights. Power BI can integrate seamlessly with your existing applications, meaning you don't need to reinvent the wheel every time. Its simplicity allows property managers to work with multi-source data, without requesting IT intervention or working on their coding skills. They can use social media analytics to help zero in on critical information, like area-wise searches, visits to portal, competitor metrics, and bookings on contemporary broker portals.
Using visuals to tell a story
But the biggest strength of Power BI is its ability to depict insights as amazing visualizations. Powerful visuals and easy dashboards tell a compelling story, instantly revealing patterns and trends, as well as critical information, like vacancies, expired contracts, forecasts, scheduled work orders and more. Dashboards can be embedded into applications for easy access to telling information and data-driven reports.
When compared to mundane tables seen in basic tools like Microsoft Excel, or the complex charts generated by many property management applications, Power BI's visualizations are instantly able to radiate information. They help connect clients or stakeholders with the insights they need in real-time. Power BI also gives them complete control over data through its interactive and mobile capabilities.
Power BI can prove to be a key ally for property managers in time-bound scenarios where real-time decision making is on the line. To know more about how Power BI can take your business to the next level, write to info@beetlerim.com